Sunbeam heated blankets are perfect blankets to keep us warm on winter nights. Fast, reliable and adjustable heating features helps us to sleep in comfort. Quick charging and sensing technology makes this blanket a powerful purchase.
However, as a machine, it can too malfunction due to many reasons. One of the most common malfunction that you may notice is your sunbeam heated blanket blinking or flickering.
Continuous blinking of sunbeam electric blanket can create various issues, like irregular temperature, heating, and malfucntioning.
If your sunbeam heated blanket blinking, it maybe due to connection issues like incorrect wiring, irregular voltage, faulty wires, etc. Alternatively, other reason, like overheating, faulty thermostats, etc. can also be the reason why your sunbeam heated blanket blinking.
The best way to understand why your sunbeam heated blanket flickering is to notice the indicator. Sunbeam electric blankets comes with an indicator that helps you figure out the exact issue with the blanket.
In this post, we are going to discuss every possible way to fix your sunbeam heated blanket. We will also learn why your sunbeam heated blanket blinking and the various indicators meaning.
Stay tuned, keep reading…
What does it mean when sunbeam heated blanket blinking?
Sunbeam heated blanket blinking means there is a problem with the wiring connection or electrical circuit. As a result, the blanket won't heat as usual and starts malfunctioning.
Sunbeam heated blankets have a control panel that indicates various LEDs or error codes during this situation. Depending on the lights, their respective meanings vary.
Below are the mentioned LEDs error codes for sunebeam blankets:
| | |
| --- | --- |
| Blinking Error codes | Meaning |
| E | A Bad heating component detects inside the blanket |
| E2 | Sudden changes in temperature |
| F, F1, F2 | There is a problem with electrical units |
| FF | There is a glitch the blanket function |
| FC", "FF" or "FP | Blanket needs a reset. |
| Blinking red | Disconnected from the outlet or heating wire is broken |
Sunbeam blanket error code
Why is my sunbeam heated blanket blinking?
Sunbeam heated blankets start blinking or flickering when they malfunction or have connection issues. Maybe the power cord isn't properly connected to the wall socket. Excess heating, faulty wiring, and voltage issues can trigger blinking LED or error codes on the control panel of sunbeam blanket.
There can be many reasons that has been discussed below:
Installed incorrectly
Incorrect installation of sunbeam heated blanket can definetely create a serious issues. Hence, make sure you've installed the sunbeam heated blanket properly, otherwise, it will keep flickering.
To start with, get the user manual first so that you can understand the exact process for your specific sunbeam blanket model. And, simply follow each steps properly. If you feel confused in any step, google it or ask from the customer support team.
Power issues
The second reason is power issues which may cause blinking in the sunbeam blanket.
Many old electrical units develop dust, clog or blockage inside. As a result, the power supply won't function regularly and may restrict the connection between the blanket and the heating element.
In such scenarios, where there is a power issue, your sunbeam heated blanket would blink red color.
Excess heating
There has been many scenarios where sunbeam heated blanket were oeverheating, confirmed by consumer product safet commission.
If you change the blanket for too long, it will overheat. At a certain time, the blanket started blinking irregularly. The faulty temperature control or malfunction in the unit can also cause the problem.
So you should always ensure the blanket gets sufficient power and no loose connection to the device. If your sunbeam blanket is somehow overheating, stop using it immediately, and contact the customer support team.
Faulty Wiring
Another reason is faulty wiring causing the blanket to overheat or malfunction. Damage to the electric wire or internal cords is mainly common here. Such occasions restrict the power sources and develop irregularity in your sunbeam blanket.
Faulty thermostat
Maybe the thermostat is faulty, has the wrong setting or is not tightly connected to the module.
As a result, the sunbeam blanket starts blinking errors in its display.
Remember, A faulty thermostat failed to regulate the ideal temperature of the blanket. As a result, the control panel pops up an error in its function.
How to fix sunbeam heated blanket blinking?
There are some simple fixes you can follow to fix your sunbeam heated blanket blinking problem. First, ensure that the blanket is not overheated . Secondly, check its wiring connection properly. Make sure the wiring is properly connected with the terminals and sockets. If everything looks good, reset your sunbeam heated blanket to fix blinking issue.
here's the step-by-step process to fix sunbeam heated blanket flickering issues:
1: Check if blanket is overheated
Sunbeam heated blankets tend to get overheated and can damage the blanket.
Due to overheating of sunbeam blankets, the temperature controllers stop working in their regular form and the internal wires of the blanket break or bunched up. Alternatively, it can create problem with the charging. Any of these situations can lead your sunbeam blanket flickering.
Too avoid overheating issues, you can use "Auto shut OFF" feature in sunbeam electric blankets that automatically shut off the blanket and will keep the blanket under control. Additionally, always follow the manual guidelines and companies suggeston while dealing with such electric blankets.
2: Check wire connection
Sometimes, the power cord between the blanket and the socket gets broken or damaged. As a result, sufficient power won't flow to sunbeam blanket and cause irregularity.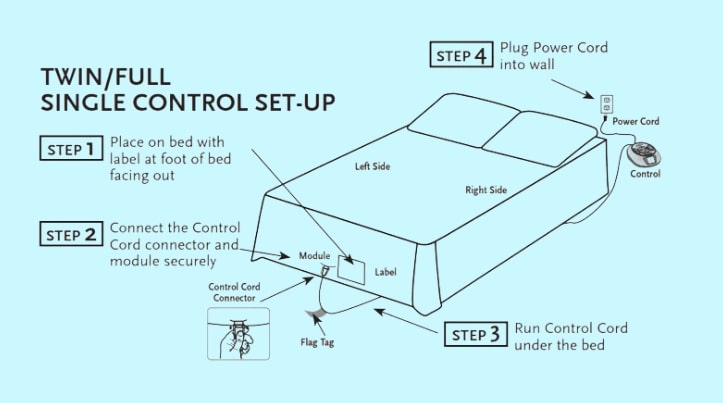 Similarly, check if the cord is firmly connected to the outlet. Once you confirm the connection, ensure the digital control wire is well protected. It is important to keep wire connections safe and secure from external damage.
To ensure proper wiring, perform the following checklist:
Make sure the power cord is properly connected with the sunbeam blanket controller.
Make sure the controller is firmly connected with the module.
3: Test with another socket
Damaged wires do not always restrict the power supply. Sometimes, our wall socket could be a real culprit in flickering sunbeam electric blankets. If the socket has a problem, it won't heat the blanket and trigger a blinking error. 
So always check if the power socket has a problem. You can take a multimeter to test the voltage in the wall outlet. If it has irregular power, try another socket to plug your blanket.
Or just try to connect the controller with another socket and check if it's working or not.
4: Reset the sunbeam heated blanket
Usually, this Sunbeam heated blanket blinking issue easily fixes with the simple reset process. This step helps to re-establish the connection between the controller and the blanket.
Resetting sunbeam heated blanket has been a proven trick to fix the blinking issur or if your sunbeam isn't heating at all.
Resetting your sunbeam heated blanket is way too easy, all you need to do is unplug the controller and module. Once that's done, wait for a few minutes and re-connect the controller and module.
Here's the step to follow:
Unplug the power cord and module from comntroller.
Wait for another 1 minute.
Re-plug the controller and module with the power cord.
By doing this, I am sure, your sunbeam heated blanket won't flicker anymore and should start working as normal.
5: Contact customer support
Sometimes, our Sunbeam heated blanket develops technical issues or damage to its internal units. It is very common with old blankets or heavily used blankets over the years.
In such cases, if you've try every hard way to fix your sunbeam blanket, and it's not working yet, go for the customer suppport team.
Contact the support team if the blinking issue won't be fixed in your blanket. Take reaping or replacement according to your product warranty. You may contact sunbeam customer support at 1-800-458-8407 or email them with the issue on their contact page.
How do I reset my Sunbeam heated blanket?
Resetting the sunbeam heated blanket fixes most of its major issues. The most common are overheating problems, irregular heating, charging issues, and flickering issue. Indeed, these products need a timely reset to establish a better connection between the module and the blanket. So, you should follow the correct reset process for your sunbeam blanket. 
To reset sunbeam heated blanket, first, unplug the contoller from the power socket. Next, unplug the controller from the manual. Once both, controller and manual are disconnected from the power socket, wait for 60 seconds and re-connect the both.
The above mentiond process will reset the sunbeam blanket.
How do I reset my heating pad?
Timely resting of the sunbeam heating pad is also important. This process helps to reduce the risk of overheating or cooling down the temperature sensor. After resting the unit, the controller and blanket make a better connection to each other. The resetting steps are similar to the previous one.
First, disconnect the heating pad by plugging out the power cord from its wall socket > next, turn off the power switch > wait for at least two minutes to cool down the unit > Re-insert the power cord and ensure it is firmly attached to the outlet.
Frequently Asked Questions(FAQs)
Why is my electric blanket control blinking?
Electric blanket controls blinking because there is a problem with the heating sensor or the wire connection is faulty. So you should take precautions to avoid these issues.
What does a blinking heating pad mean?
Blinking heating pad means the blanket is used for enough time so the auto shut off is turned on. In this cse, unplug the unit for at least 30 seconds.
How do I know if my electric blanket is bad?
There are a few easy ways to ensure the electric blanket is bad. For example, Scorch marks on the product, water damage, broken wires, discoloration or mold issues.
Do electric blankets expire?
Electric blankets need replacement after ten years of use. Every two years the blanket needs inspection from a qualified electrician.
Conclusion
So, above is a detailed guide about why your Sunbeam heated blanket blinking and how you can fix it. I hope, I was able to help you with your problem.
Remember, if your sunbeam heated blanket blinking, it could be due to poor wire connection and errors in the blanket units.
Depending on the LED's or error code, reasons may vary. For example, the red LED on the control panel means the blanket is disconnected, while the E error code means faulty heating units are detected
There are many ways you can try to fix your sunbeam heated blanket, which we have discussed in this post. For example, first of all, make sure the sunbeam blanket isn't overheating, and make sure the wiring is properly connected between power cord, controller, and the module.
If everything seems normal, try resetting your sunbeam blanket. This should most probably fix the problem and your sunbeam heated blanket should start working normally.