Demand for pebble shower floor tiles has remained unchanged over the last decade. Unique and natural design are the primary features behind these tiles' popularity.
Users love the convenience of affordability and availability of pebble shower tiles. They are quite easy to install and budget-friendly, due to which many people do install pebble tile shower floors in their bathrooms.
However, things are not as beautiful as it sounds. Before installing, you must know the common pebble tile shower floor problems, their pros and cons, and how safe pebble tiles are.
For example, drainage problems are very common with these pebble tiles. Pebble tiles also need more grouts to fill the gaps. Otherwise, the floor becomes uneven, and would be difficult for you to walk over. Additionally, they need regular maintenance to keep the floor shiny and clean.
Similarly, there are many pros and cons of Pebble tile shower floors. This guide points out the most common problems with pebble tile shower floors, their benefits, and their drawbacks.
By the end of this article, you'll have enough idea to decide whether you should install pebble tile shower floors in your bathroom or not.
10 Most Common Pebble Tile Shower Floor Problems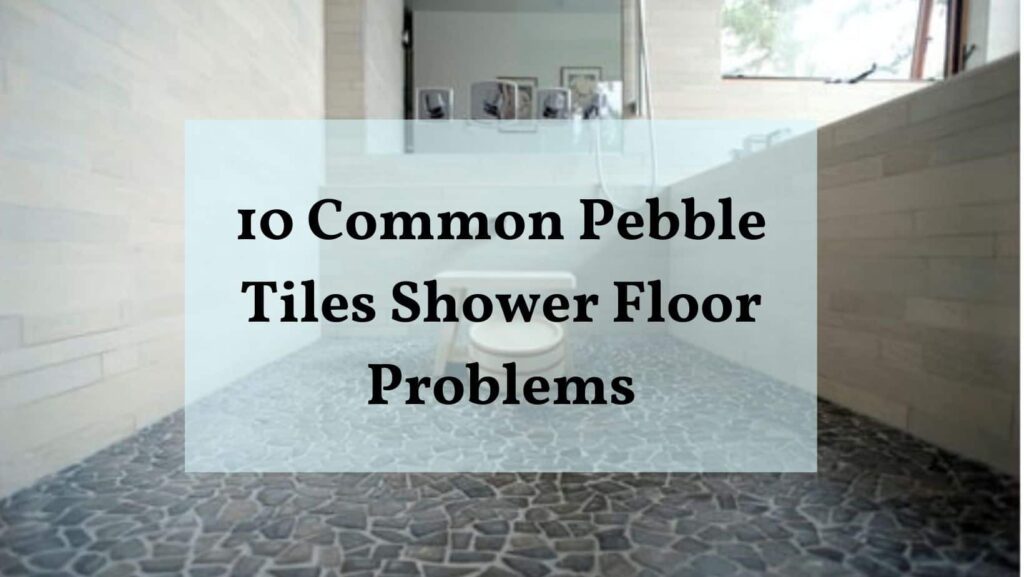 A Pebble tile shower floor is a convenient and budget-friendly option for a unique and aesthetically appealing bathroom. They provide so many customization options to make your bathroom so beautiful.
You can choose the various pebble colors to install, they are non-slippery and comes in various shape and sizes. Additionally, the natural feeling that you get under your feet is unexplainable. With such style, you'll always find an excuse to get into the bathroom.
However, as mentioned at the beginning of this post, things are not beautiful as it sounds. There are a lot of pebble tile shower floor problems that may convince you to not install it.
This post is going to talk about all those problems and the pros and cons of pebble tiles shower floors.
1. Drainage problem
Unfortunately, this is a commonly developed problem with Pebble tile shower floors. These tiles are prone to uneven surfaces, creating gaps and crevices between the pebbles. As a result, tiny particles like hair, soap, and debris get accumulated between the gaps. Due to this, water doesn't drain properly.
If you do not clear the clog from the tiles, a slight fungal coating will start developing and leave thin white marks on the floor. The problem may not be obvious on winter days, however, this could be a vital concern if you live in a hotter or more humid area.
The mold and fungus developed on the pebble tiles make the floor slippery which could lead to injuries and may become hard for elders to walk over the floor.
That's why it is recommended to install the pebble properly in slots. Additionally, regular cleaning and regular inspection are necessary to avoid drainage issues.
To tackle this drainage and fungus issue in pebble tiles, there are a few things you should take care of while installing them in your bathroom. For example, do not buy highly raised pebble tiles and use enough grouts between tiles so that the gaps between them could be minimized.
Alternatively, you can go with sliced or flangled style pebbles that will not let water accumulate between the grouts and pebbles.
2. Need expert floor inspection
One of the unfortunate reality is the pebble and grout are not 100% waterproof. Indeed, the floor can wiggle or come off from the layout due to the continuous pressure of your body weight.
This would create a gap between the two-adjacent tiles and the grouts. Due to this, water may accumulate on these gaps and damage the pebble tiles.
Hence, it is recommended that always get your floors under professional check to make sure that the floor can easily accept pebble tiles and won't make any gaps later. Professional flooring experts can reduce the necessary mistakes while installing it.
3. Not good for hard water
Did you commonly notice white, powdery build-up on your bathroom or kitchen faucet handles? If so, you're probably living in a hard water area.
Indeed, pebble tiles surfaces are reactive to hard water. It's because the hard water contains high amounts of minerals that leave white deposits on the tiles and cause a murky white color on the floor.
This white murky color would completely ruin the natural appeal of your bathroom.
In such cases, you need to extra care of your pebble tiles and your bathroom floors. For example, you need to regularly clean and brush up the tiles using some chemicals, like vinegar or rubbing alcohol.
Regular cleaning with vinegar is indeed a time-consuming process and maybe a headache for many homeowners.
4. Need high and regular maintenance
As per the previous discussion, we understood that the Pebble tile shower floor needs higher maintenance. However, the maintenance is not as easy as spraying the floor with a cleaner, wiping, and rinsing it.
Believe me, maintaining a pebble tile shower floor isn't that easy.
You need to get into the depth and use additional chemicals to clean the pebble tiles in your bathroom.
This is because, the floor develops crevices and gaps that stick with hair, soap, and other unwanted debris. This clog may develop white murky deposits needing a robust cleaning solution like vinegar or rubbing alcohol.
Additionally, the pebble tiles need more grout that comes off over time. As a result, they tend to leave residue and discoloration problems. And, you need to clean every part of the pebble tiles, joints, and grouts.
All this explanation means that the pebble tiles need extra care and a higher level of maintenance on a regular basis.
5. So much grout needed
This is indeed another pebble tile shower floor problem, you need a high volume of grout than a normal tile. Pebble tiles floors need approximately 2.5X more grout than normal floor tiles.
But, there is nothing wrong with using the extra volume of grout, however, it can create some bigger problem for a normal homeowner.
For example, extra grout means extra cost. Hence, the cost of installation will be higher on pebble tiles floor compared to normal tiled floors.
The second thing is selecting the right brand of grout became crucial. And, third, the pressure of tiles increased due to this dense fluid.
As a result, chances of uneven or wiggle floors may develop in the future. Improper application of grout can also lead to various challenges like water leakage, gap, holes, and other issues.
6. Not best for feet
The biggest marketing line of pebble floor tile is do-it-yourself(DIY) installation. Indeed it is true that anyone can adjust the pattern of these tiles with minimum knowledge.
We already mentioned that the feeling of putting feet on pebble tiles is unexplainable. It gives you a natural feeling of standing on the beach.
However, if you don't have experience installing tile floors, the wrong placement of pebble tiles could make the floor unpleasant and painful to your feet.
Improper placement can lead to wiggling or uneven floors in the future. As a result, the comfort and aesthetic presence quickly disappear from your bathroom floor.
Additionally, some people are uncomfortable walking on pebble floors due to sensitive skin. That's why an expert inspection and correct installation are crucial for the Pebble tile shower floor.
7. Not durable
While regular tiles are durable and can be re-finished easily, pebble floors don't last long. After a certain period of time, you'll have to replace the pebbles with new ones.
It's because the pebble floor has high exposure to grout and sealer. That's why they tend to wear and tear much faster than others.
The cleaning materials, hair, dust, and other elements also tend to be stuck in exposed joints. As a result, discoloration, water leakage, and the uneven surface become regular, reducing longevity.
We recommended keeping grouts and sealers around the border of the pebbles, however, still, after a certain period of time it will eventually come off.
8. Can fade colors
Discoloration problems in the Pebble tile shower floor may depend on various factors. Still, many users experience faded color problems on their stone showers' floors.
The condition mainly occurs due to water leakage underneath the grouts and tiles. Over time, the liquid stuck inside the gaps and became murky white.
On the other hand, cleaning chemicals and harsh scrubbing can also reduce the longevity of pebble tiles. So using a mild cleaning solution is vital to keep grout and sealing healthy.
9. Pebble tiles are hard to clean
As mentioned, cleaning the pebble tile shower floor differs from regular tiles. Pebble tiles are not as easy as just using a normal cleaner, wiping the floor, and letting it dry.
You need something additional to keep your pebble tiles neat and clean.
For example, while regular tiles can be cleaned just by scrubbing with normal water, however, pebble tiles are not that easy. You need to use some extra cleaning agents, like, vinegar or rubbing alcohol to clean the floors.
While you'll be using extra chemicals over the floor to clean the tiles, at the same time, you also have to keep in mind that more aggressive cleaning agents can reduce the longevity of pebble floors.
10. Too slippery
Pebble tiles tend to become slippery for many reasons. Firstly it's exposed grouts that became wet over time to water content and improper adjustment.
Secondly, the tiles tend to collect clogs in the gaps. As a result, white deposits start gathering on the floor and become slippery.
So, Is pebble tile good for the shower floor?
So, now, let's get to the point, Is pebble tile suitable for the shower floor? Should you invest in installing pebble floors in your bathroom? Are pebble tiles shower floor problems so serious?
Honestly, it depends.
Installing pebble tiles in the shower is entirely a personal preference. pebble tiles have both, advantages and disadvantages.
However, there are a few things we are going to talk in this section of this post that will help you conclude whether you should install pebble tiles in your bathroom or not.
This shower floor needs 2.5X grouts than regular tiles. So the extra pressure can lead to an uneven surface on your floor. Additionally, the tiles need higher maintenance due to exposed grouts and sealer.
There is always a risk of drainage problems and white deposits on the tiles. All these challenges can reduce the average lifespan of your shower floor.
So pebbles may not suit you if you need low-maintenance but highly durable shower tiles.
However, no one can deny the aesthetic presence of a Pebble tile shower floor. The Pebble is perfect for anyone looking for a budget-friendly, convenient, and naturally appealing shower floor.
Unique and textured pebbles are available in various shapes, designs, and colors. So users can pick and customize their bathroom interior accordingly.
Lastly, pebbles are different from rock floors; these stones are designed in a rounded shape and offer maximum comfort to feet.
Pebble tile shower floor pros and cons
So far, we talked about so many examples of the pros and cons of pebble tile shower floors. And, by the time, you must have concluded whether to install it or not.
Here are a quick points to know about:
PROS:
Pebble shower tiles add a natural and aesthetic outlook to your bathroom.
The texture of the tiles may offer good slip resistance in the initial days.
Pebble tiles are made from natural stones, making them a perfect eco-friendly choice for shower floor installation.
Due to its natural characteristics, the tiles can be durable and withstand regular water content.
CONS:
Pebble tiles need more attention to cleaning and maintenance.
Grout issue is common with this shower floor installation.
Over time, the floor became uneven if not monitored.
FAQs on Pebble tile shower floor problems
Why is my pebble shower floor turning white?
Hard water minerals and moisture mainly cause the pebble shower floor turning white. You can prevent such conditions by regular cleaning with mild detergent.
How do you restore a pebble shower floor?
Several techniques are available to restore a pebble shower floor. But the combination of baking soda and water is perfect for many occasions. Add 45 grams of baking soda and 1 liter of water in a bowl. Pour the mixture on the surface and leave for 5 hours. Later, rinse the paste using warm water and dry it with a microfiber cloth.
What kind of grout for a pebble tile shower floor?
Experts suggest using high-performance cement grout for the pebble tile shower floor. The most popular are Prism, Permacolor, and Ultracolor. Ultimately you should avoid urethane-type grouts that may damage the surface.
What is the best cleaner for pebble stone shower floors?
White vinegar is the best cleaner for pebble stone shower floors. Spray some vinegar on the surface and leave for 10 minutes. Now scrub and rinse the floor to get your desired result.
Conclusion
Above is a detailed guide about common Pebble tile shower floor problems.
We hope you get a complete idea about the advantages and disadvantages of these tiles.
If concluded, pebble tile is famous for its affordability and natural presence on bathroom floors. These tiles offer many customizable options to install.
However, the floor requires higher maintenance and grout sealer than regular tiles. People who live near humidity and hard water areas find this flooring a headache.
Higher maintenance may increase the cost of cleaning and fixing pebbles in the near future.
So, if you are the one don't have any budget constrain and elder people in the home, feel free to go with pebble tiles. But, if there are people who are elder and have difficulty walking, I suggest you to go with normal floors.